As you know, like most, my skincare routine changes quite often. However, these few have stuck around for a minute. And when I find something that works, I'm compelled to share. If I have it, you need it!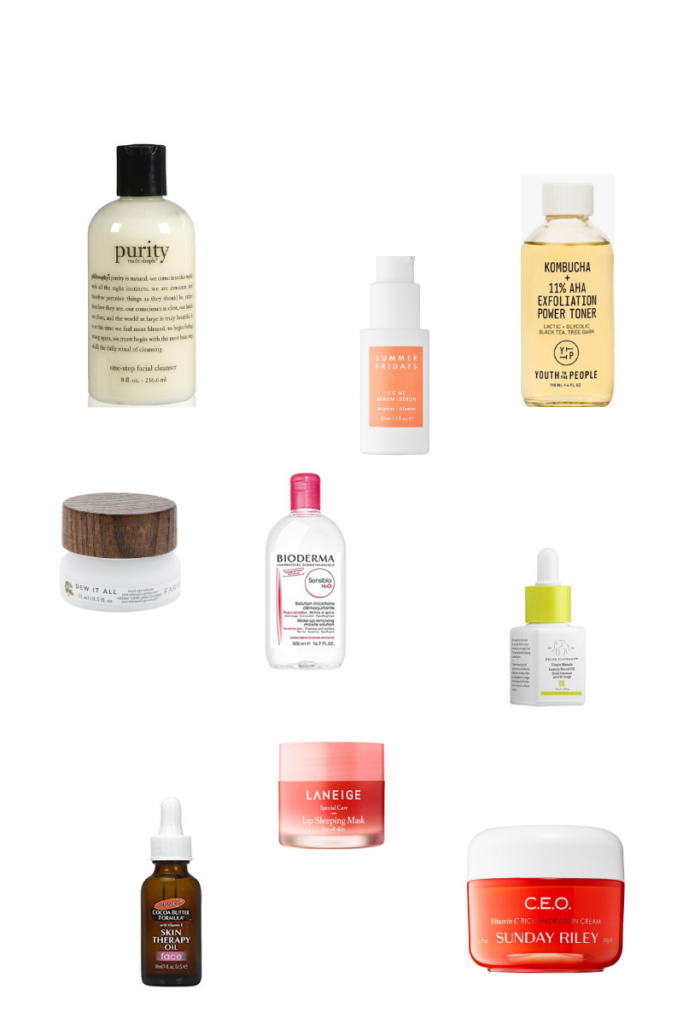 Philosophy Purity face wash has been in my skincare routine the longest. We're talking old faithful. I may stray from time to time only because I'm a product junkie, but I always manage to find my way back to it.
Youth to the People toner is my newest lover. This is a good one, girls. I swear the need to exfoliate has diminished. It's like I'm killing two birds with one stone. Tone and exfoliate in one step.
Summer Fridays Vitamin C Serum is living up to the hype. I use this in the morning after I rinse my sleepy face…. It feels good and acts as a great primer to makeup.
Bioderma! This probably should have been first on the list. Before the YTP Kombucha toner, I used this one morning and night. Now I use it in the morning after I splash my face with cold water. It's super light and leaves no residue. Although I feel like we all know about this product already, I couldn't keep it off the list.
Who doesn't love a hydrating eye cream? My skin is dry, especially around the eyes, so Farmacy Dew It All eye cream does it all (pun intended).
C.E.O Vitamin C cream, just my nightly moisturizer.
Drunk Elephant and Palmers Face Oils I alternate between the two. It's my morning moisturizer before I apply makeup. It's the kind of moisture that lasts all day. I only wish they contained SPF because that's an extra step I could avoid.
I'm a slave to matte lipstick, and as a result, I'm the victim to super dry lips. Laneige Lip Sleeping Mask helps big time. You'll see a significant difference after just one application.
Now you know me, I'm always trying new things, adding to and taking from this list. This is just one of many posts to come like this. For now, these have been my every day typical, and I thought it was worth a share. We all deserve to do or buy what makes us feel and look good!
Happy Shopping
xoxo
Tawana